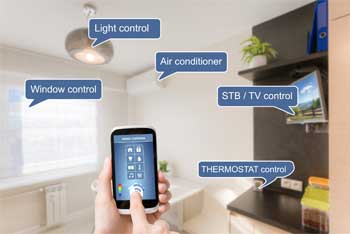 There have been several movies and television shows over the years that have had us wistfully wishing we could have the efficient and modern smart home that we saw portrayed. It seemed like something that might happen one day, but probably past our lifetime. Surprise! Smart home system installation is here and it is easier and more affordable than you might think. Now that it is here, how do you know if it is right for you? Ask yourself if any of the following features or benefits would interest you:
Increased Security – Your smart home system installation can work with many home video surveillance security systems to enable you to view what is going on at your home, inside or out, on your smart phone from anywhere in the world. If you travel for business or pleasure, or you have caregivers, childcare providers, or other personnel in your home daily, being able to keep a close watch can provide incredible peace of mind.
Increased Safety – Your smart home system installation can also control lighting, making it safer to navigate your property, particularly when you plan to come home after dark or leave before sunrise. You can control the lighting with your smart phone, which also gives an added layer of security.
Save Utilities – You can also use your smart home system to shut off electronics that are a power drain even when they are not on. With a smart home system thermostat, you have better control over the temperature setting, so even a fluctuating work schedule isn't a problem.
If you would like to know more about smart home system installation, give us a call at 5 Star Electrical LLC. We can put together a system that meets your needs and makes your Tampa, Florida home everything you had dreamed of in terms of security, safety, and convenience.