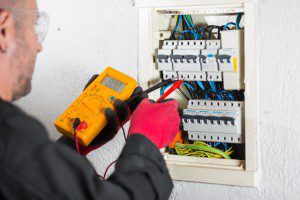 Electricity is a great commodity that most can't live without; however, it is also dangerous and can even be life-threatening.  For this reason, it is important to take proper care of an electrical repair when the damage happens.  You may consider turning this electrical repair into your next DIY project, but it's best to leave it to someone with experience.
Making an electrical repair can be dangerous.  Fire, serious injury, or death can occur from an improper repair.
Adjusting wiring without the inspection from a licensed electrical inspector is illegal in some states.
DIY electrical repairs could lead to property damage.
If your DIY repair job goes wrong and causes any damage, your insurance company may not accept your claim.  It is considered negligence.
According to the Electricity (Safety) Regulations Act of 2010, a person who is competent in the field must perform most electrical repairs. This individual must be licensed and have the proper knowledge, skills, and experience to complete the project while maintaining the safety of themselves and those around them.  Our electricians at 5 Star Electrical LLC are competent individuals, ready to help.  Give us a call next time you need an electrical repair.